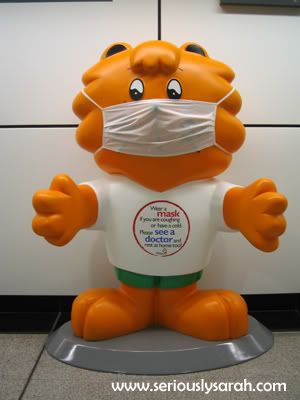 This is a random courtesy lion. This time he's wearing a mask to prevent H1N1. That's nice of him. Oh for non-locals, he's kinda like the mascot to be uh, courteous and all.
But let's get back to business!
TGX 09 is The Games Xpo! I have no idea why they spelled expo as Xpo but whatever. It's "cool" to do so, I guess.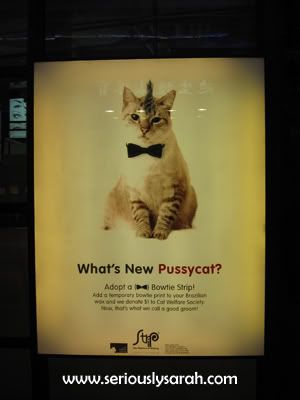 This isn't the TGX but it's just an amusing ad at The Strip in Suntec, some waxing place. It was on the way to the convention halls there anyway. But yeah, Suntec. I was there to see more of the cosplaying segments and this was on the 4th of July. That was day one and day two was more of the championships. I didn't go for that one.
Blurry pic but mainly there's game areas, stage area and the buying area.
Meanwhile…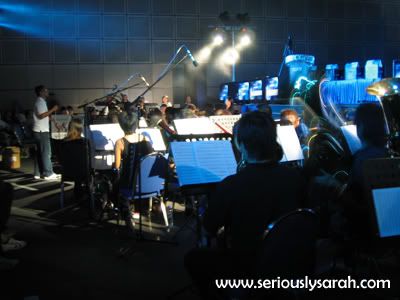 The Singapore Wind Symphony played a few songs from games and anime titles. In the song Suteki Da Ne, there was a Yuna doing vocals for it and IT IS SO FREAKING SAD. As in, the song IS sad with the storyline and all so it was just SOOO feeling. VIDEOS after my whole post at the bottom.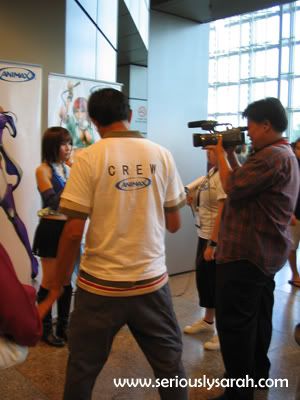 The Yuna being interviewed/recorded by Animax. She sang very well.
Before the performances though, there was a Shana contest. Girls who wanted to cosplay as Shana just entered and the organizer gave them the costumes.
This isn't a REGULAR cosplay competition but it's more like for those who are interested in how cosplaying is, best for newbies who want to know how it's like, Shana anime fans, etc. Plus, it's cause the sponsor Animax was there. Pretty interesting competition since the judges are supposed to judge on the PERFORMANCE on how the people acted as her which is good!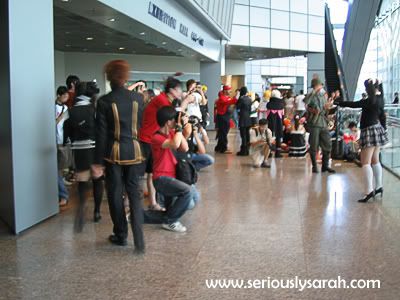 I didn't stick around for the regular cosplay competition sadly but instead just went around seeing people. There'll be more this weekend at Cosfest.
Various game companies were around and lucky draws and giveaways were to be had. In this one, players had to fish out some ball and see what their prize is.
Replicas from Black Technology. Most cosplayers/costumers of the SWAT or weaponry type usually buy from them. Apparently they had a booth this year at TGX!
Chivalry Entertainment, the organizers of Cosfest had a booth too. CE is the game/media company but the organizers are the founders of Singapore Cosplay Club so yeah. Anyway if you have some red/blue 3d glasses on, try to see if this image will pop out for you. It certainly did for me in real life.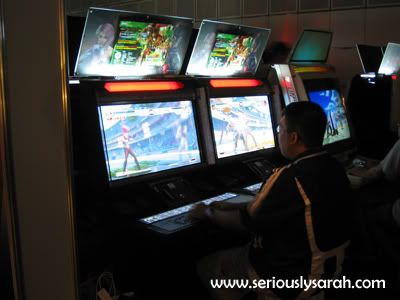 I didn't stick around for much of the competitions but yes, there was A LOT considering the World Cyber Games were held there.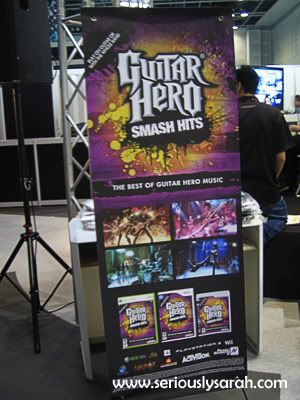 Meanwhile… I really should buy this one of these days. Darn that I wasn't around to try out for the walk in competitions! They were having a Samsung game thingy there instead.
And now, the videos.
By the way the screen in the BACK lags from the front so look at the real life person in front of it instead.
EDIT: Gah, it broke my page, I'll give you direct LINKS instead to the videos.
Here we go:
Hatsune Miku dance performance
By the Singapore Wind Symphony:
Kingdom Hearts Overture
Suteki Da Ne (with Yuna on vocals)
Final Fantasy Extravaganza (longer than 10 minutes, had to put on photobucket)
Naruto theme song