WARNING: This isn't a really spoilerific post for the movie. I ain't telling what's happening that isn't in the trailers.
The gala premiere for Singapore was on the 15th July, Shaw Lido at around 7.30pm in the evening. Of course I arrived much earlier for it to check out the location.
Oooh, they definitely are reserving all the movie theaters just for this gala premiere.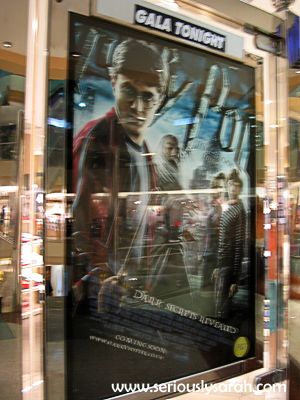 Yes, it was totally official and all.
For the recent gala premieres in the Harry Potter series, I have noticed EA setting up the games near the standees and all for the movie.
Since I was rather early for the show and that my friends weren't there yet, I decided to play it and see how it is for Harry Potter and the Half Blood Prince game. Okay, more like I waited for some kids to finish getting killed by Bellatrix before their mom called them away from the game station.
I managed to check out the spells list before starting that level.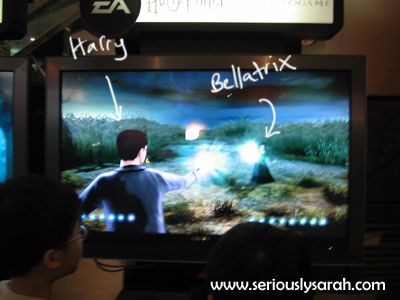 Can I say it was freaking fun playing as Harry?! It's an adventure game where you play as Harry Potter (duh) in the sixth book/movie.
It goes along the storyline and you can wander around the castle and find bonus things too. In my brief demo of the game, I managed to find a student bully in one of the courtyards and dueled with her. Got a bonus point thing from that!
Sadly, since this is a demo I didn't get to play the whole game.
However, it would have been fun if there was a two player or multiplayer option for the game like, practicing dueling in the room of requirement as a side thing besides the storyline option.
If it has, then it would be so totally cool like the duel option in Star Wars Unleashed. Instead of lightsabers, it would be magic of course. I'd probably have to check HP&HBP to see if it does have that option when I can look at specifications.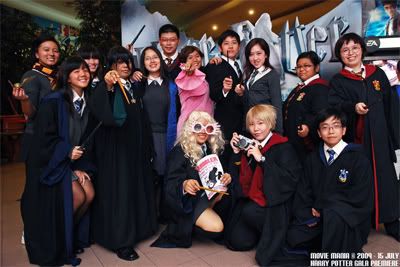 Group photo by Trooper2008.
Meanwhile, celebrities such as Zoe Tay, Adrian Pang and other local actors and actresses bringing their family were invited to the event.
There were some fans who dressed up for it too, so that was fun.
Okay, so how was the movie? Mind you, the ones I went with are uber fans including me and to us 150 minutes wasn't long enough.
Not sure if this was only for the gala premiere but before they ran the main movie, there was a short clip of Daniel Radcliffe, Rupert Grint and Emma Watson saying that they hoped we would enjoy the movie even though they are unable to be there with us. And then they ran a little summary/promo clip of all the previous movies in the HP series before Half Blood Prince started.
It was just like a memento thing since you could see how they all group up and what happened before HBP. And so they ran the current movie and everyone hushed as Harry faded onto screen after the opening titles.
It's a good adaptation to me since they put in the major plot points of the book in there. Of course there were some changes but I didn't mind it at all since it meant more scenes for one particular character that is a fav of mine.
The ending… My row… There was much sobbing involved. I'm not telling what happened to those who didn't even read the book but yes, sobbing or tearing.
My friend Arrch who didn't read the last two books enjoyed it a lot so even non-book readers would be able to understand it. It's really funny and the dark parts are okay, dark. Sometimes literally because the director seems to have this whole desaturated colours thing going on for the artistic feel.
Also, the actress of Lavender is really, really good. In fact, in this movie it seemed everyone knew how to act convincingly (try compare it to when they were really, really young kids). Snape looks like he has really… lovely hair with each passing movie. Hair like how Snape fanfic writers would describe.
I can't mention HP without mentioning Luna and I have to say that she's the ultimate random that is random. I definitely like her a lot.
Go watch the moviiiiiiie. It's so nice that makes me hope that there's extended scenes whenever the DVD comes out.