This is a food squeeing post.
Well, specifically it's now at Ion Orchard, basement 2. I forgot the exact address but you can look up the signs there. It just opened a few days ago.
AHHHHHHHHHH THEY'RE BACK IN SINGAPORE!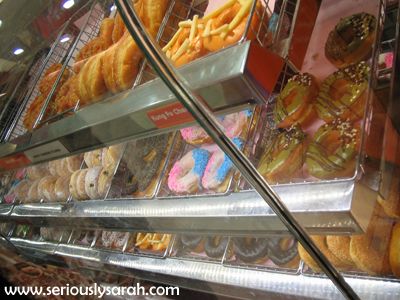 The line wasn't that long. I got my donuts in five minutes. Also for those non-locals who have no idea what the fuss is about… It's cause long, long ago… In a distant time, there were DDs in Singapore AND THEN THERE WASN'T ANY MORE UNTIL A DECADE LATER.
So yeah, it's now back so YAY.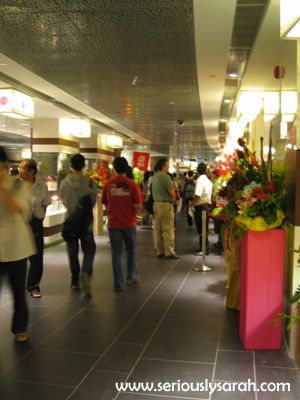 Okay, I wandered around Ion Orchard a bit especially at basement 4, the food hall. Lots of people were around and all and HEY, Yami Yogurt was there! I bought a honeydew regular sized one and apparently for this short period of time you get a free topping! Wheatgerm for me, by the way.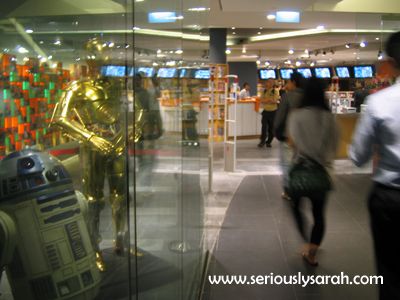 With my frozen yogurt in hand (well, in a cup and that cup was in a hand), I hung out with C3P0 and R2D2 while the strains of "One of us is lonely… One of us is only, waiting for a caaaall" floated in the air near the Titanium bookstore. It was just so freaking our lady of depressive soundtrack somehow with that ABBA song and me eating my yogurt there.
Some shops aren't open yet and these masks are pretty creepy when the rest of it are still being renovated.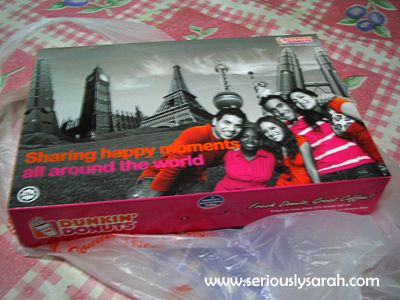 Got home and am amused with the Halal sign on the box. I wonder, does that mean the sandwiches at the store are Halal too? No contact number or webby for Singapore yet so hmm, can't ask.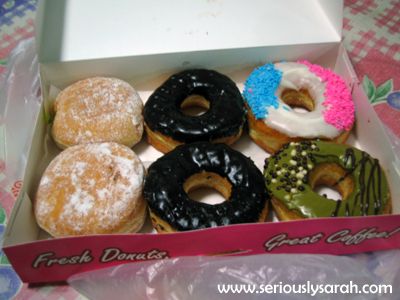 I ate the green apple jelly filled one. The rest, I shove to my brothers since I just needed one donut. Hopefully they'll finish it! So hurray! Good donuts! Yaaaaaaaaay! You have no idea how many people on my twitter list have been asking about this too.