Cosfest VIII was held at Downtown East, Pasir Ris on the 11th and 12th of July from 1pm till 7pm. Of course in reality people went much earlier and left much later than the official times. It was held at D'Marquee.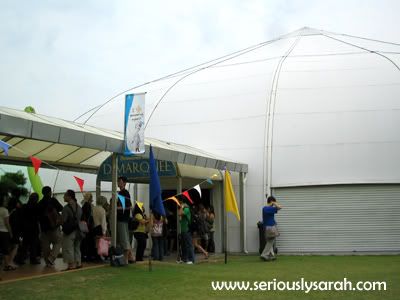 A dome like thing but pretty much once you're at Downtown East, if you get lost, just find the costumed people and you will pretty much reach the correct location.
Every year the crowd increases. This year's floor layout was good, it wasn't that difficult to walk around this time! Plus, it seemed like there was more light than in the previous years so that was good for photographers.
The schedule for both days. Day 1 was the anime karaoke contest while on day 2 was the cosplay competitions for the World Cosplay Summit.
In WCS, the representative for Singapore will compete with the other cosplayers around the world! They get free food, lodgings and air tickets to Japan for the period of the competition there.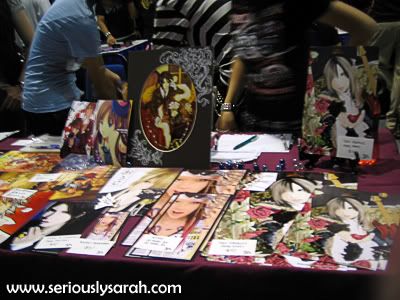 It's only in these events you get to buy prints from the local artists here.
Or figurines and toys. Okay that's a really blur picture but yeah. There were booths from established stores too like Alice 88th and Pan in the Box.
NerfSG.com also had a little section showcasing the nerf guns. This is probably because the Nerf Tournament 2009 is on in August at the same location.
As per tradition, there's the graffiti wall for people to draw on. I wonder where all the boards go after the end of it all every year though. It would be nice if it had all been kept and then showcased one year to see the difference (increase of more pro artists, I noticed or rather people increased their skills).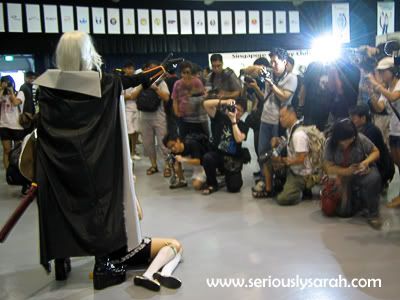 But heck that, you probably want to know about the cosplay there too. There's more photographers with DLSRs around but oh my…
Some brought their own light kits. It was pretty cool seeing how they worked though.
Alright, some of you are wondering if I cosplayed at this event and I did. For day 1 since I didn't have time to complete my other one for day 2 due to, oh I don't know… GRADUATION?! But never mind, I managed to finish one.
Here's a reference of the character of who I did on that day. It's Katara from Avatar the Airbender series.
She's a water bender. Meanwhile are you sure you wanna see me as Katara? Well, here we go…
.
.
.
.
The not so mysterious me will be revealed, are you sure?
.
.
.
.
.
Lots of dots, don't you think?
.
.
.
.
.
.
.
.
.
.
.
.
.
.
Bwuahahahaha! That's my friend cosplaying as a Pacman by the way. Let's get on with the karaoke competition with day 1 first, shall we?
They used this emcee for the previous few years. By now he has been quite educated in anime, manga and cosplaying.
I remembered the first time he emceed years ago, everyone somewhat cringed on how he pronounced the characters names and stuff but he totally knows his stuff now! I managed to record the opening cosplay performance by Idol master , 1-13 karaoke contestants and the closing of the first HALF of the thing which is the Gackt cosplay/dance performance. For the karaoke contestants, just check the playlist out since I'm uploading them bit by bit.
For the second day, I had the first few performances for the cosplay competition so just check the same playlist out.
Now I'm just going to spam the pictures I took on both days!
Cardcaptor Sakura is so pretty with her clow cards.
Too much flash from my camera but that's Dream from the Sandman series.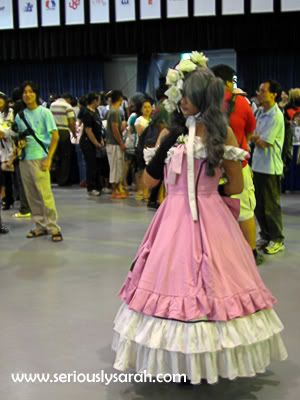 Ciel from Kuroshitsuji.
Detroit Metal City.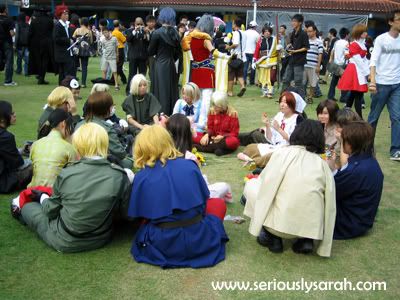 Hetalia cosplayers having a picnic.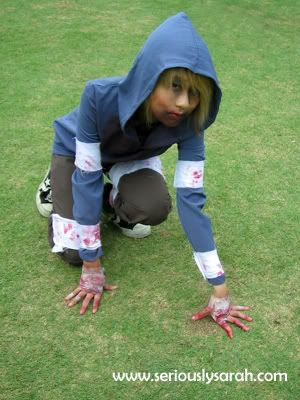 A Left 4 Dead hunter… It's no match for the…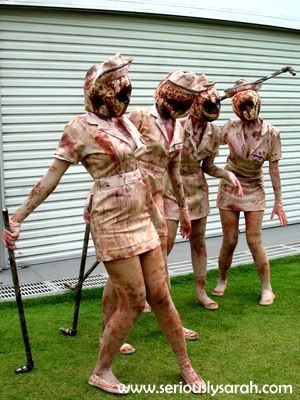 Silent Hill nurses!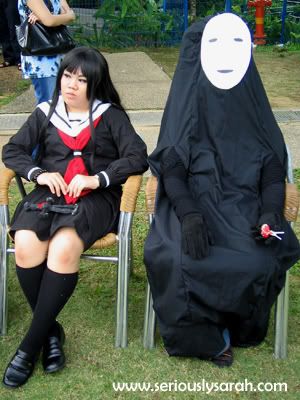 Meanwhile Enma Ai from Jigoku Shoujo (Hell girl) and No Face from Spirited Away nonchalantly watch them.
While the Misa-s from Deathnote were not amused with the zombies.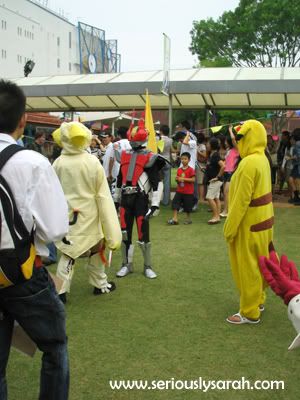 There were lots of mascots and Kamen Rider types outside of D'Marquee.
Like a Renamon from Digimon…
And okay, No Face decided to go to Solid Snake from Metal Gear Solid to read a magazine.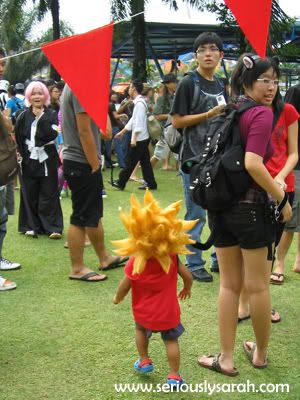 This little guy ran away from them all to wander away. Perhaps back into D'Marquee?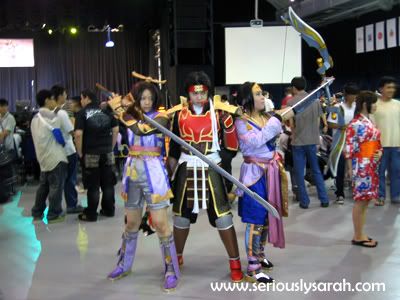 There were certainly warriors there!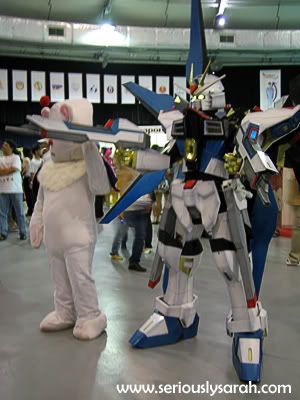 Along with a Gundam and oddly a Moogle (from Final Fantasy) next to it.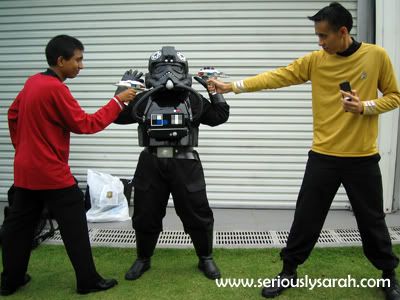 Meanwhile back outside, the Trekkers had set their phasers to stun aimed at the Tie Pilot!
Anyway, both days of Cosfest were cool and it only rained at night! I managed to buy stuff too.
One set of English doujinshi (independent comics) from Comix Pandora. They put in freebies and goodies too in the set and I also bought a copy of Dream Walker. That'll be a separate post because that one is available in most major bookstores! Congrats to them for that!
Oh yeah I got this for free from the Shooot Academy by registering into their "guild" for machinima and stuff. Got a Hellgate figurine (Hunter) and their comic about how the three different classes collaborated together to join forces bla bla.
So yeah, it's always in the middle of the year! Next big event is the Singapore Toy, Games and Comics Convention! We'll see that in August.